Top 3 Self-Tanner Products
And you wouldn't believe that a little over a week ago I was still wearing shorts and crop tops but now we are back to boots, hats and jackets. Even thought  it seems like summer has come to an end; it doesn't mean that we can't keep or nice golden looking skin all year long. That's why I wanted to share with you my top three at home tanning products that will save you money all year long.
First of all, I want to clarify that this is not a sponsored post and that this is my hones opinion on what has really worked for me. I have tried multiple products the past couple of years and let me tell you that I have had good and not so good experiences. The at home tanning lotions are probably the most affordable option and safer option out there.
St. Tropez Tanning Essentials Gradual Tan Classic Everyday Body Lotion-Medium/Dark
This is my current favorite among the three but it's also the pricier one. This is a hydrating body lotion that gradually builds to create a healthy-looking tan. What I like the most about this product is that you can wear it to the gym and it won't create patched on the skin after that good sweat!
2. Perfect Tan Gradual Self Tan Lotion
This one is the second affordable option and it might sound weird but I really like the smell of it. It reminds me of the beautiful beached in Ecuador. It's like summer in the winter. I would say that this one might stain a bit if you sweat a lot, so make sure it is completely dry on your body before putting clothes on.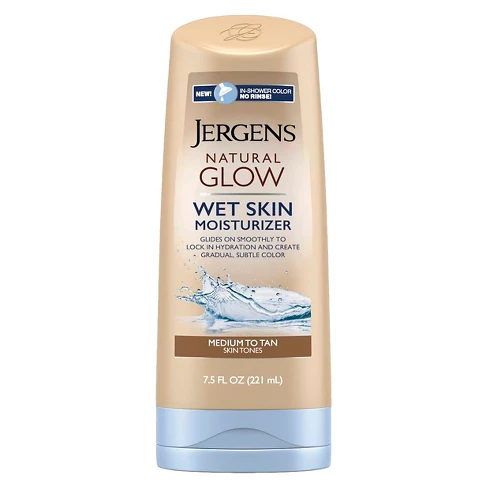 3. Jergens Natural Glow Wet Skin Moisturizer Medium/Tan 
If you are looking for a very affordable option, then this is the perfect product. You can apply it on wet skin and you will gradually get some color. Just like the other two, it doesn't stain your clothes which is a plus. I will say that I am not a fan of the smell of this product. It's not the worst but it's definitely a bit strong
I would recommend to always go with the medium/dark option if you really want to see a difference in the skin color. The listed above are my favorites thus far but I want you to remember that the way you apply the product and the prep time is also important. A blogpost on my current tanning routine coming soon!
FIT TIPS:
-Top runs TTS. I'm wearing an S.
-Shorts run TTS. I'm wearing an 24.
Sizing reference:
I'm 5'1″. Typically wear 6.5-7 in shoes